Features and Tools
All basic call/chat functions you expect from Keen.com can be found on the Advisor App. See below for the current list of features and tools available as you run your business. Check back often as our team is working on additional features to provide more flexibility and accessibility for advisors.
Availability
Availability Manager
Similar to Keen.com, you can set your availability to "Offline/Arrange Calls/Taking Calls" and "Offline/Taking Chat"
You can select a primary phone number and switch among your existing phone numbers (which you've input via Keen.com)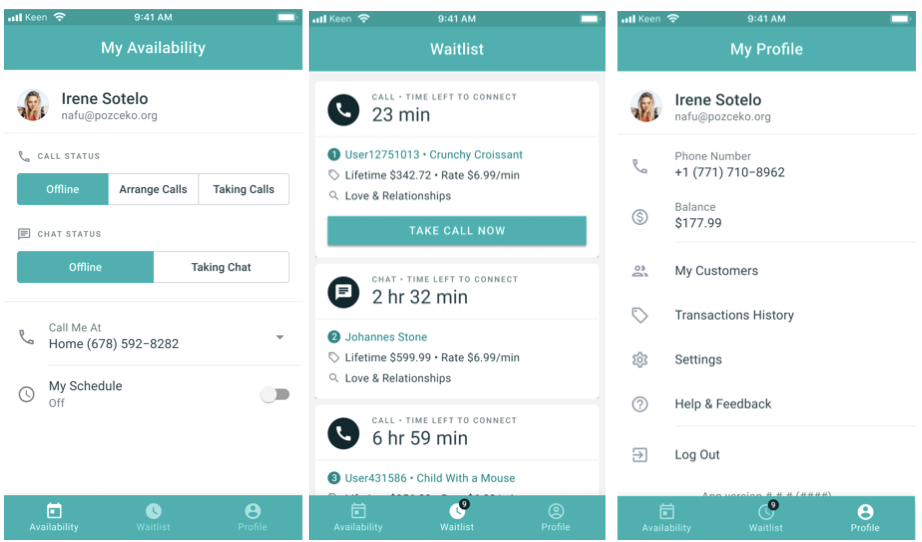 Schedule Access
If you've already created a schedule on Keen.com, you can turn it on/off on the app via the Availability page bottom section. Please note: the toggle on the app only allows you to to sync your call schedule, not display it on your profile. That could be done separately via the web.

Waitlist
Arranged Conversations
View and take arranged calls and chats on your waitlist queue of arranged conversations. Please note that appointment requests are not yet available on the Keen Advisor App.
Profile
Pin
Your Personal Identification Number (PIN) is listed at the top of the Profile screen. You can use this to identify yourself when speaking with any Keen representative about your account.
Balance
View your current account balance. This amount reflects what is currently in your account and available to be withdrawn.
My Customers
You can now easily manage and organize all of your customers on the go. Visit Profile and click My Customers to open a list of all your customers on Keen. Here you can scroll through your customers and, by clicking on the three dot menu, assign them to various lists or send free minutes. If you click on a customer's name you can view the chat transcript, details, and any notes you took. The customer details include the last time they contacted you, how long they have been your customer, how long they have been on Keen, your lifetime earnings with this customer, and their average feedback rating.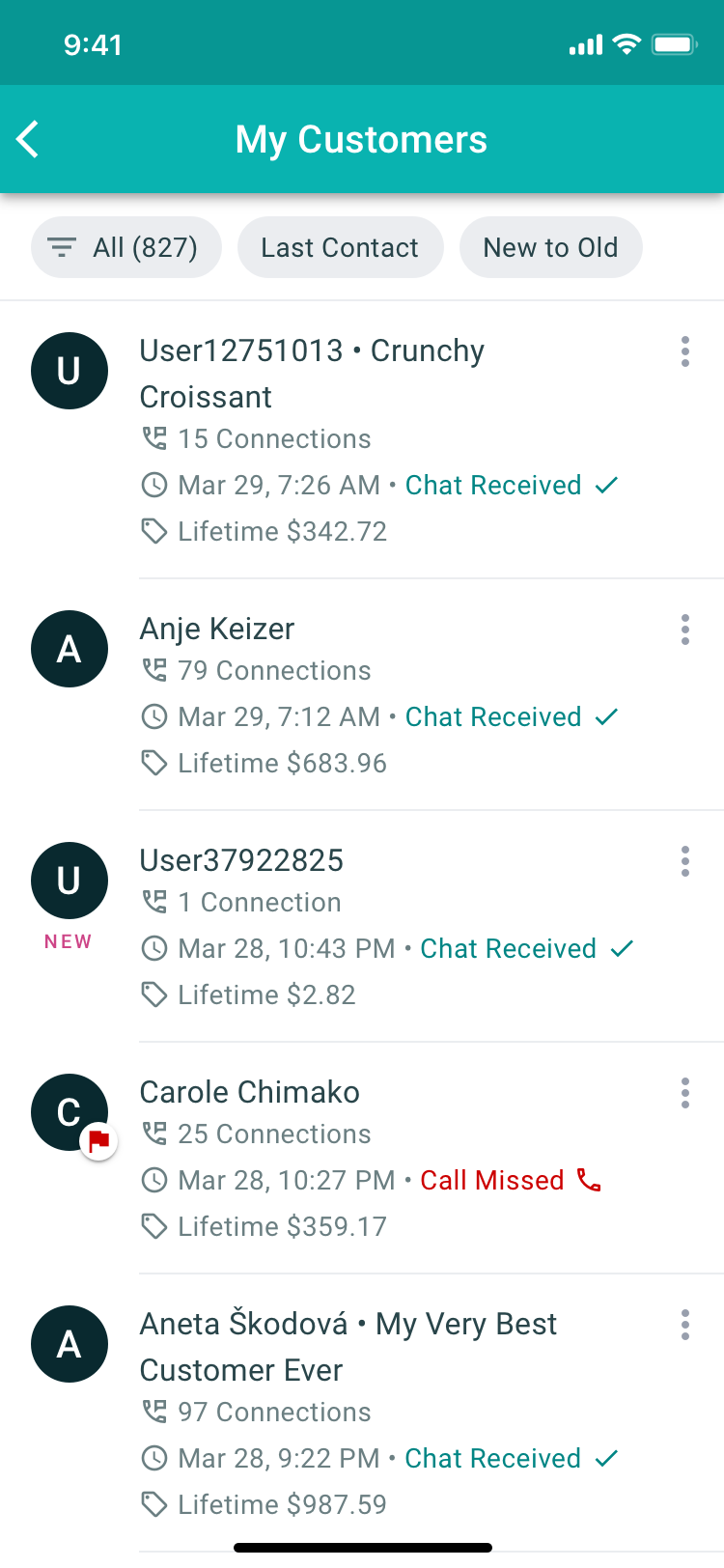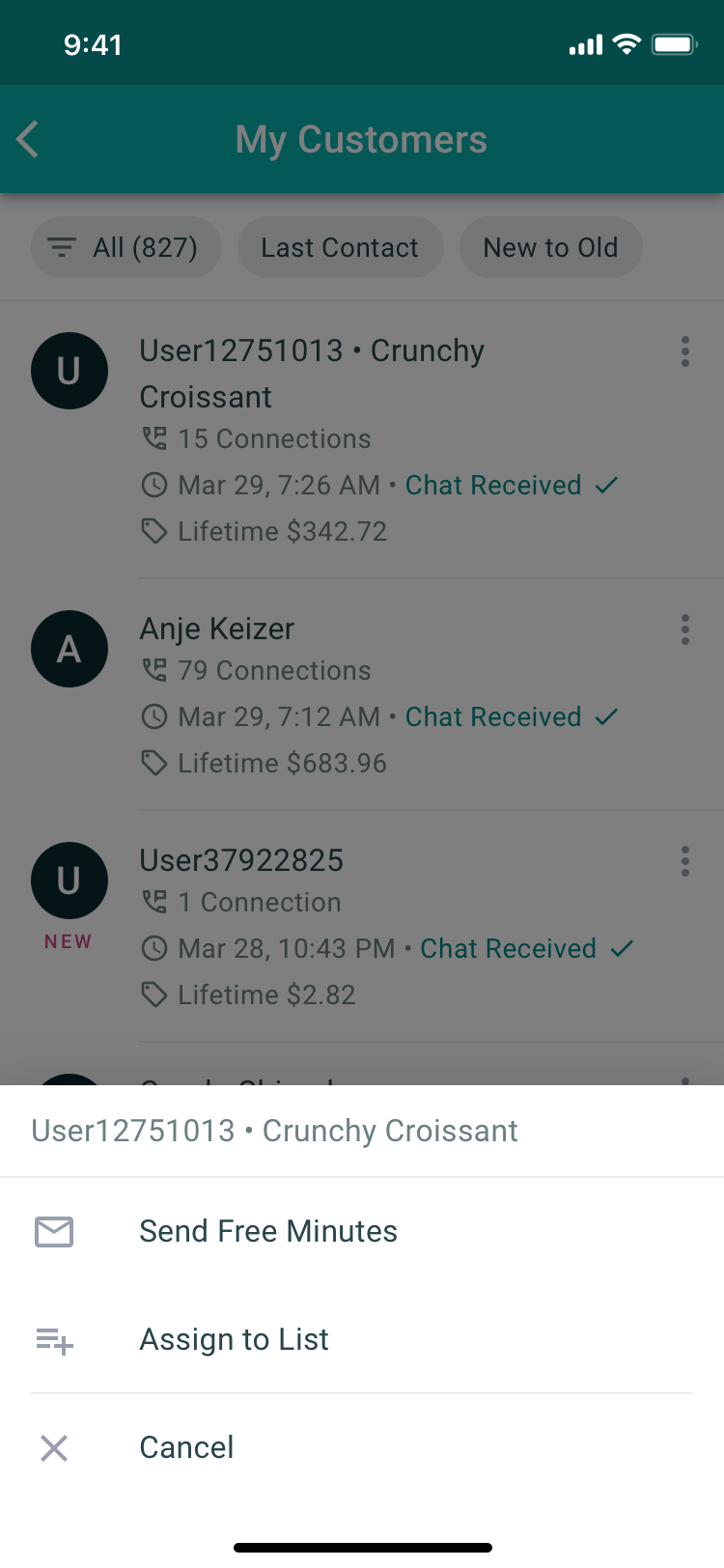 Send Free Minutes
Now you can send Free Minutes anytime, anywhere. Visit Profile, click Transaction History, and select the customer you'd like to send minutes to. Once on the transaction details page, you'll see a "Send Free Minutes" button. Free minutes can also be sent from the My Customers list and clicking on the three dots menu next to the customer you wish to send minutes to.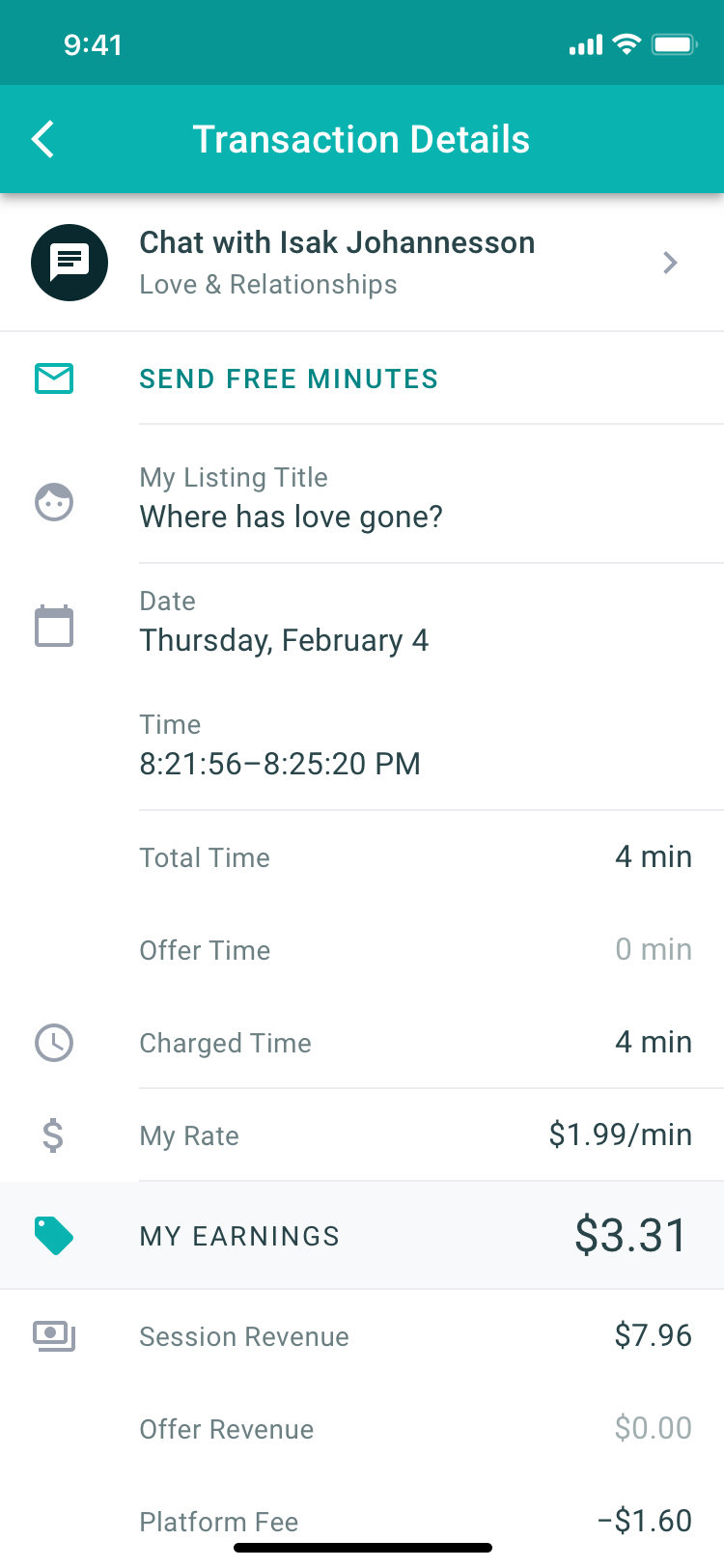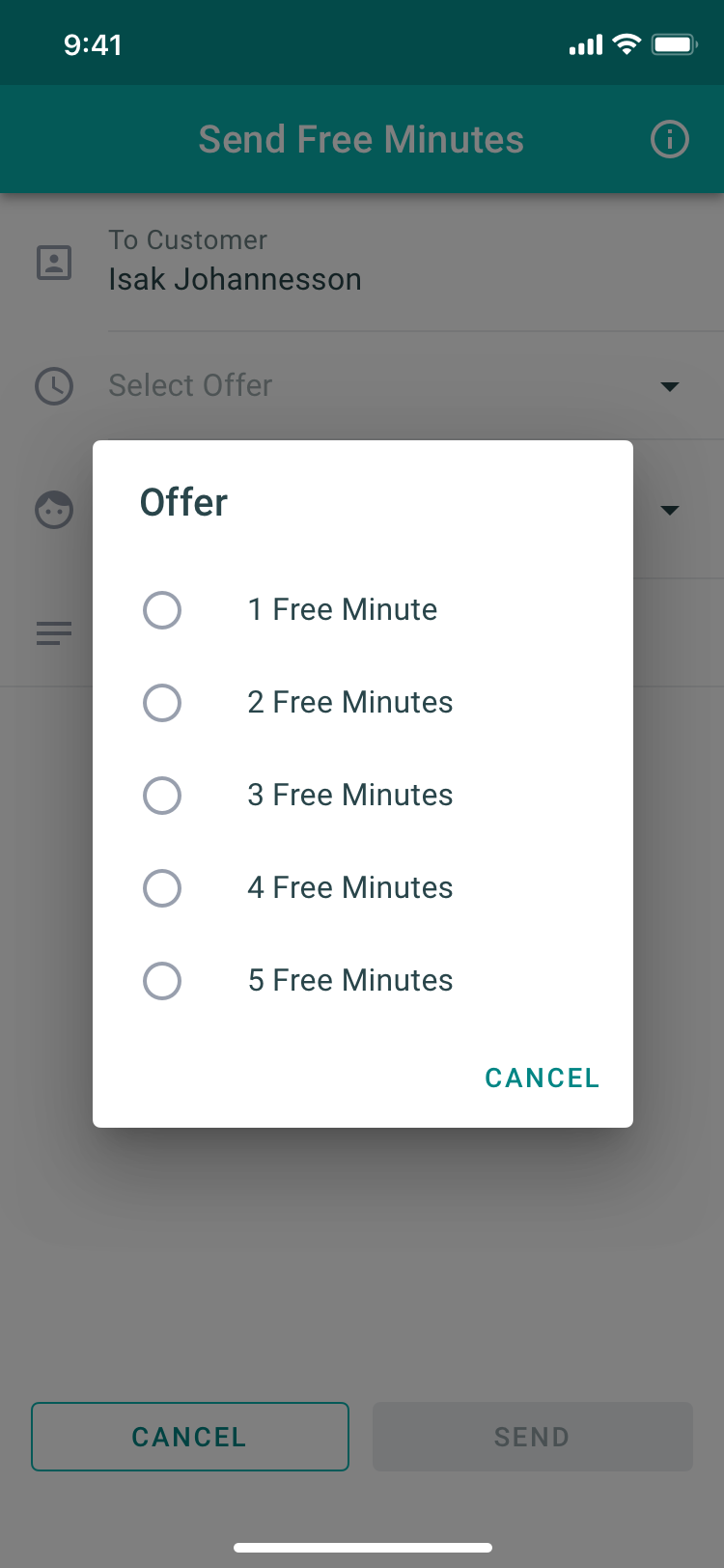 Transaction Details
Once you select a customer from the Transaction Details list you will be able to see details of when and how long the conversation was, if any promotion was used, how much you earned, and more. Access Chat Transcript, Details, and Notes by clicking on the Chat with 'Customer Name' on the top of the page.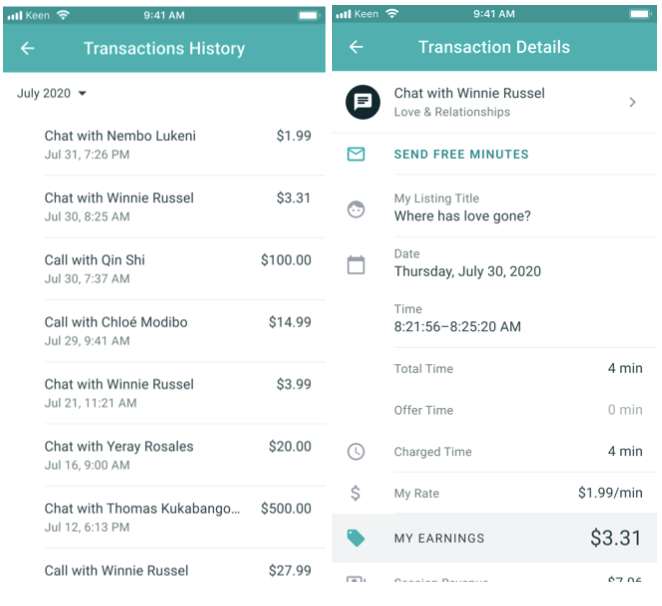 Settings (Accessibility)
Font Size - Use your phone's factory settings to increase font size that works for you.
Dark Mode - Change the theme of the app from light to dark mode. Dark mode allows you to stay focused, reduce eye strain, and improve phone battery life.
Spanish Language - Use your phone's factory setting to change your preferred language to Spanish.
Text-to-Speech: Keen now has a Text-to-Speech feature in the app. Turn this on by visiting the Profile tab, clicking Settings, and switching it on. As an advisor, we know how important it is to work on-the-go. This option allows you to hear your customer's chat messages read out loud. It pairs perfectly with our Voice Over feature making your conversations as seamless as ever.
Help & Feedback
Easily submit questions or concerns using the Keen Customer Support Form
Have feedback for the Advisor Mobile App team? Send your feedback, any feature requests, and screenshots of any technical issues to our team directly through email.
You can also view the User Agreement and Privacy Policy here.
Log Out
If needed, you can log out of the app from the Profile tab. If you do so, your chat availability will automatically be set to offline when you log out. Please note: call availability is not automatically set to offline, this is something you will need to do manually. We do this to allow you to continue your business even while outside of the app experience.