Assisting a Dissatisfied Customer
My Customer Wants a Refund, What Now?
There may be times when a customer reaches out to you to request a refund if they don't feel a connection. Maybe one of you had an off day, and the connection wasn't there. Maybe Mercury is in retrograde again. Whatever the cause, we have a solution! Here are options for handling a customer who wants a refund:
Keen's Satisfaction Guarantee Policy
Customers have the ability to request to be reimbursed for one unsatisfactory experience every 30 days via our Satisfaction Guarantee policy. This is a courtesy credit from Keen and does not impact your earnings. Feel free to direct customers to this resource!
Send Free Minutes
Free Minutes is a powerful tool that allows you to entice customers back for another reading. You may also send free minutes to offer a customer another reading as an opportunity to improve their experience with you.
Request that Keen credit the Customer on Your Behalf
If you choose to do so, you may request that Keen credits the customer on your behalf. Please note that if you choose to offer this to a customer, all earnings from the reading in question will be debited from your earnings. We do not have the ability to offer partial credits at this time.
Some things to remember:
You are in no way obligated to offer this to a customer.

Keen is never able to issue refunds back to the customer's original form of payment for services that have already been provided. All credits given to them will be in the form of Keen credits, even if the advisor is refunding a customer from their earnings.

Choosing to honor a customer's request for a refund will not result in having any feedback they may have left is removed by Keen, nor will it prevent a customer from being able to leave you feedback if the conversation qualifies
To request Keen to credit a customer on your behalf, please fill out the Customer Support form and include the following information:
Date and time of conversation:

Customer's Username:

Amount Earned: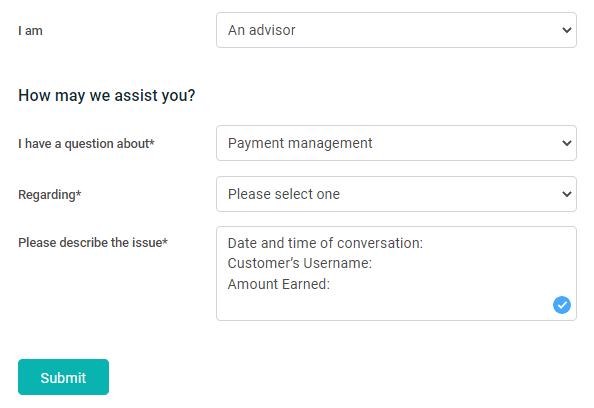 You can find the above information via the Transaction Details page for the particular conversation.
Please write a brief confirmation message that you agree to us deducting the amount earned from your account. Once we receive your approval, we'll process this request.
Still have a question? Contact us!